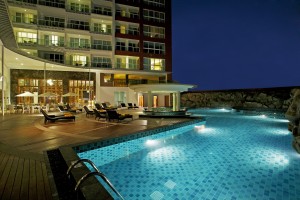 Currently in Thailand the Joint Foreign Chambers of Commerce in Thailand (JFCCT) has been pushing for a change in the laws which would allow foreigners to sign longer leasehold agreements. Unlike other countries in Asia which have a 99 year property lease structure, Vietnam being the best known Thailand is still on a 30 year maximum leasehold agreement law. The Joint Foreign Chambers of Commerce in Thailand (JFCCT) in Thailand have stated that many property investors are looking for long term agreements and this is creating a weaker property market in Thailand.
Other real estate agents and property developers have agreed that this limitation affects the construction industry and the rental markets in Thailand. The Chamber of Commerce has stated in its property report that :
'Most of the successful property markets in the region are either totally liberal, for example, Hong Kong, or have recently dramatically reduced restrictions on foreign ownership such as Singapore. Markets such as the UK, in actual fact favour the foreign owner over domestic buyers notably in respect of tax. In response to the global crisis, Singapore has liberalized its foreign ownership laws and launched for the first time landed villas at Sentosa which were targeted at new overseas investors and have been a resounding success.
CBRE one of the largest property agents in Thailand has stated that any positive change to the laws would not only affect the property market but the Thai economy overall as all of the transactions from foreigners are in cash. This cash injection affects everyone including the Thai banking system, shopping malls and other property surrounding large new developments. When looking at Cambodia the Chamber have noted that a lot of the property investment is now flowing into Cambodia. This is not because it is cheap but because there is long term tenure and most investors are looking long term and not short term.
Changes in the law may come however I doubt it will be any time soon. There is still alot of play in the property market but if we see the Euro crisis running on longer, more people will be looking elsewhere in Asia. Noting on another report that the current property market in Thailand is very soft with not much high-end property being sold this year in Phuket. Note that the low-end sector of the property market is still there as well as the middle-end sector mainly supported by Australians investing in property in Thailand. If you had been thinking about buying property in Chiang Mai then there is no better time than this year as the property market is moving sideways and looks stuck in there for a while.