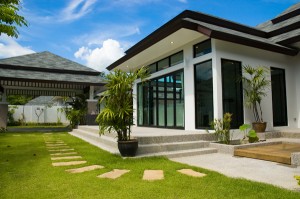 Buying property offplan in Thailand does come with risks. Let us look at what it is that you need to look at when buying offplan and what the most common problems are when buying in Thailand. Speak to an attorney before buying any property or signing any contracts.
Every contract when buying a property that is still being built must have a start date and a date when it will be completed. Without a time frame signing such a contract leaves you open to abuse as we have seen during the last Asian financial crisis when many buildings were never completed. The cost of the apartment or house also needs to be stipulated and here is is not just the compelted price but also the cost per square meter. This is important in the event that the apartment or house is a bit smaller than what was agreed on. With a price per aquare meter and the overall price it avoids you having to be paying for a smaller apartment or house. Say the property was a 100 square meter apartment at 1 million Baht per square meter but the apartment is only 95 square meters when it is completed then why should you pay for 100 sqm when you are only getting 95 sqm. That is a 5 million Baht saving alone.
Payment default penalties are also important. Should you pay late or the development is taking longer than what it should, there should be appropriate penalties. Check these penalties beforehand. Also see the refund policy should the building or development not be completed at all. One aspect of buying offplan is that normally you have everything custom designed. As an example you are buying with certain types of materials being used. These materials should be listed in the contract. If you wanted certain type of tiles then it has to be in the contract else it is not going to be binding on the developer. If you wanted expensive carpets and you end up with cheap carpets then you cannot hold them to the contract if it was never listed in the contract.
Very important factor to look at is that at the begining of the contract the developer must state that they own the land. They must state that they hold the title deed to the land that is going to be used for the construction. also ensure that there is a method of avoiding lititgation later by using a dispute resolution method such as a third party.
Buying property in Thailand can be difficult. Speak to us with regards to buying offplan and ensure that you do not lose your investment. Speak to us today. Call our tollfree US or UK telephone numbers, or speak to us online. With offices in all the major cities in Thailand – we are able to assist you. Simply walk into any of our offices for advice and assistance.